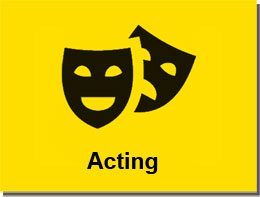 Acting
All the worlds a stage.
I bet you've heard that so many times you're immune to it!
The true reality however is that... All the world's online!
Every actor should have their own name as a domain name. Or a recognizable variation of it. We totally agree. However, isn't it amazing that when you start Googling your name how many people have the same name as you! And to make matters worse, they've beaten a hasty path to Godaddy's door to bags their domain before you did. You arrive just behind them to find your name taken! AHHHH. It's the pits ain't it!

OK. We have a helpful solution here for you. We've tried and tested it and it helps. The solution is…a domain name that contains key words. Words that tell people what you do. What your job is. What they can expect. We have a beautiful selection….like…FILMACTOR.COM. Says it all doesn't it.